Archive for the 'News' Category
Lots of folks that are older than 13, but not yet in possession of a photo ID have asked about attending the event.  Also, these folks have also wanted to know if they can attend the event without a parent.  After consideration, we've decided to allow attendees aged 13 and older to attend without a parent, but with proof of identity and age.  Please read below on these changes:
All attendees must be over 13 years of age or older, unless accompanied by a parent or guardian.  All attendees age 13 or older must provide proof of identity and age, as listed below.  Attendees unable to provide proof of age and identity that are not accompanied by a parent will be refused admittance.  Attendees under the age of 13 may attend free, but must be accompanied by a parent or guardian.
All attendees that would like to consume alcohol provided by themselves or others, must be 21 years of age, and have a valid federal, state, military, or government issued photo ID. Examples include drivers license, passport, or state photo ID card.
All attendees aged 13 and older must provide at least one form of photo ID with age, issued by a school or government organization. If a photo ID is not available, we ask that 2 forms of identification be provided. In this case, the ID document that shows age must be issued by a school or government organization, the second ID document only needs to verify identity or name. Birth certificates, credit cards, library cards, student ID, work ID, voter registration cards, and non-photo ID will be accepted. To prevent risk of identity theft, please do not use your Social Security card.
Please contact info@furrypicnic.com for questions on acceptable documents not mentioned, or any other registration questions.
So we've got a grand tradition of excellent door prizes at Furry Picnic.  We've had tablets, smart watches, smart speakers, and streaming media sticks…  what now, what could be amazing now?
Well, we thought for a bit… and we know what is a bit more fun and still a bit geeky… behold…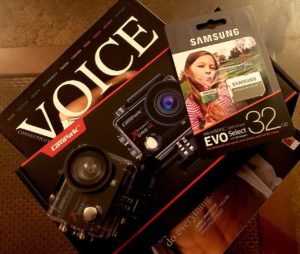 A waterproof 4K Action Camera … yeaaaaah, nice… great for fursuiters, great for everyone.  Have fun this summer, take videos of everything… go nuts!  Wi-Fi capable, remote activation, and all the mounts, and a memory card – we got ya!  It's another great way we like to have fun, so join us as we raffle this at 5:00pm at the picnic!
See you there!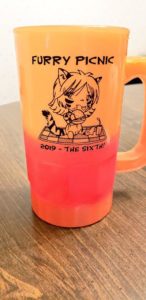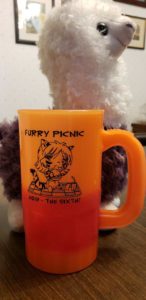 Want to come to the Furry Picnic? Alpaca lunch!
Back, as secretly foreshadowed in the 2018 mug… (woah, the 2018 mug had an Easter egg?  Yeah… it's all the years mugs in the 2018 coloring!)  the orange-red color change mug is revealed!  Dishwasher safe, and just so much fun, it's our gift to you! Add it to your collection! Free for everyone who attends, be sure to register now and make it yours!
See you at the Furry Picnic!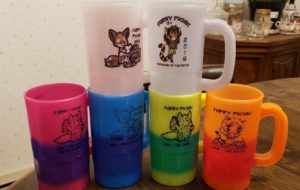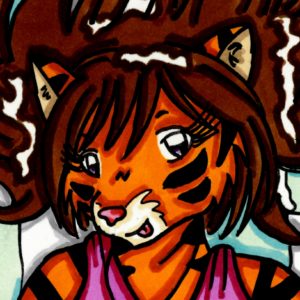 We always have encouraged everyone to preregister, and why wouldn't you! Pre-reg makes it faster to get into the picnic and have fun, gets you a badge, and a custom art print exclusive by Foxy!  What's the Tigress doing in he 6th appearance? Don't forget – Your early registration helps us with head counts for food, and we really appreciate that, so much, we will hook you up!
Remember, the Furry Picnic is only $10 when you preregister, save $5! It's another way we can say thank you for being a part of the fun!
Apologies for the delay, as we were trying to negotiate hotel rates.  Unfortunately, due to our size, we could not secure a discounted rate for 2019.  Based on the feedback of our attendees, we've decided to step away from the Holiday Inn East Hartford suggested for 2018, and go back to recommending the Hyatt House in Windsor, CT.  We understand the rate isn't perfect, but we've shopped the local offerings, and we're still inclined to say they offer the best overall deal and quality when shared among others.  The food, staff, room size, and amenities recent renovations to their hot tub and pool really make it a better choice when compared to other area other hotels with smaller rooms, and less amenities.
To learn more, or book a room, visit our Hotel page
Thank you for your patience, and see you at the Furry Picnic!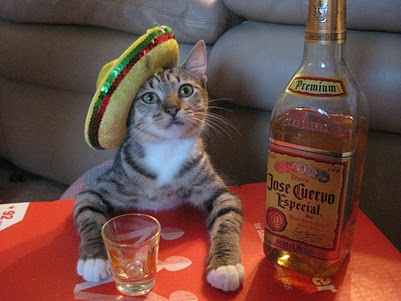 It's baaaaaaack!  Get your cinco on!  The return of Cinco de Meow!
SORRY!  We got too quiet, sometimes too much tequila can do that – but YES OF COURSE $5 reg!
To make up for all the silence, it's now 5 days of Meow!
Now through Friday May 10th, admission is $5.00!  Get into it!
https://www.furrypicnic.com/?page_id=688
Oh heckie – No bamboozle! Furry Picnic 2019 – The Sixth! is here at its home in Wickham Park, Manchester, CT!
The date this year is Saturday, June 8, 2019, Wickham Park, Manchester, CT!
Non-stop fooding and fun times to ensue – only $10 ($15 at the door)! Parking is $7.00 a car.
Visit our Registration page here, and if you'd like to stay the weekend, check out out Hotel page here our rate info for 2019 will be updated shortly, but whether you make Furry Picnic a day trip or party all weekend long, Furry Picnic is ready to rock!
From Twitter, come join us!
Holidays with your fur family – come decompress with us! The 3rd Furry Picnic Christmas, etc. Meet @ Denny's, 621 Queen St, Southington, CT Tuesday Dec 25th, 7PM! No RSVP – free. Fursuit Friendly, dedicated waitress, and gifts! Get out of the house and come have fun! #furry pic.twitter.com/CLrLpRqHjg

— Furry Picnic (@FurryPicnic) December 17, 2018
Our Tigress mascot takes the center stage in our 5th Anniversary edition mug!  Full color returns in its first time since 2013!  *EVERYONE* gets a mug! So please come get one of these annual collectibles!
Out color change mugs are always a blast, you might even say it's an Eeveelution.
It's getting really close now… oh, yes indeed it is.
Be sure to pre-reg before next Saturday, when the reg goes up to $15 at the door.  Eek!  Pre-reg helps us plan, and saves you money!
Also, join us on Telegram – https://t.me/joinchat/BVn94kg3d-fUvkMP96UDVw
Our official chat is a great way to plan rideshares &  crash space, share photos, and keep up with your friends after the event!  It's good stuff!
See you in a week – only 1 week!